Mynians, your premier Voice & Data Cabling contractor for All of the Central Florida Area, specializes in the knowledge and installation of Category Cat3, Cat5, Cat5e, and Cat6 Cable. For over 15 years we have been installing telecommunication systems for Businesses in the Central Florida Area, and it's never a dull day. Our clients expect two simple things, be on-time and on budget. . We have a quick 24-hour estimate turnaround for most structured cabling and telecom installations.
What Is Network Cabling?
The network cables that interconnect all of the office equipment, including computers, printers, and phones, to each other and the internet make up the communication backbone of the company's business network. Data moves from point to point over the cabling according to various communication protocols. The industry standard for San Francisco voice cabling was always twisted-pair copper cable, which is still used for most data and voice cabling networks. Technological demands for higher speeds and larger bandwidths will require replacing much of the existing Ethernet cabling with fiber optic cabling.
Whether adding to cable to a building, cabling from building to building, or repairing existing cabling within an infrastructure, companies must be sure that the cabling company they use understand which type of cable will bring the best results for each specific purpose.
Structured Voice & Data Network Cabling Cat 3, Cat 5, Cat 6 Cable Installation
Which should be used for voice
Which type of cable is optimal for data over short distances
Which works well with video
Wire Management, Patch Panel Termination
Testing & Certification
Wiring Block Termination
Voice over IP (VoIP) Hosted Voice Solutions
overall Installation and Maintenance
Considerations When Installing Network Cables
Every component of Mynians data cabling network plays an important role in the speed of transmission. Many well-meaning technical gurus emphasize the type of cable that connects all of the elements, but there are times that the Cat5e data cabling is not the problem, and Cat6 might not provide the solution.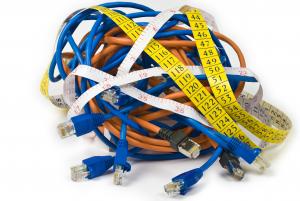 Many issues must be addressed prior to embarking on the quest to upgrade the data and voice cabling because major upgrade projects can be expensive. The modem, server, router, switches, and other pieces of equipment might be faster than the Cat5e cabling. Network uses must be defined so that the best network decisions can be made. Surfing the Internet, data entry, streaming video and graphic design efforts all demand a different level of performance from the computer cabling. When the business anticipates growth in the future, the network must be adaptable to the business needs.
Budget constraints might dictate the possibilities when installing a new fiber-optic network. New cabling systems should be of the highest possible quality to prevent the need for future upgrades. Most businesses will grow in the future and network traffic will increase as demands on the system increase. When an existing system becomes sluggish, a full system diagnostic should be performed to find the system components that require an upgrade. Replacing cable will be an expensive project that consumes valuable resources. Older equipment that is no longer properly integrated might be the source of system slowdowns.
Crosstalk and interference usually require cable replacement. Old Cat 5 cable is very susceptible to interference and does not cancel noise. If the existing cable is the source of network issues, Cat 5e can be installed to address the crosstalk issue. Cat 6 is even better because it has a much lower noise ratio.
Documentation & Testing
Cabling for Voice or Data networks is only as good and the testing and labeling of the jacks and patch panels. If your cabling was done by a professional then everything is tested, documented, and label correctly right? Most small contractors don't take the time to do the job right. We pride ourselves in our outstanding workmanship in completing network cabling systems to our standards that exceed the industry.
Manufacturer warranties: up to 25 years, rest assured knowing that your cabling infrastructure is completely dependable.
Labor and Installation Warranty: We stand by our work with our solid iron-clad 2-year warranty.
Our Warranty & Guarantee
Professional cabling & communication Companies take your business seriously. Why would you entrust just some guy? Your business is your Phone, it's your Internet, It's your Fax Machine. Price is not the only thing. Value is the "Only Thing" will your "Guy" Show up on time? will he be on vacation or at the ball game when all your phones are down? Trustworthy, Competent, and Professional. Call us when it just needs to work. We Do It Right the First Time!